5 Profitable Ideas to Generate More Income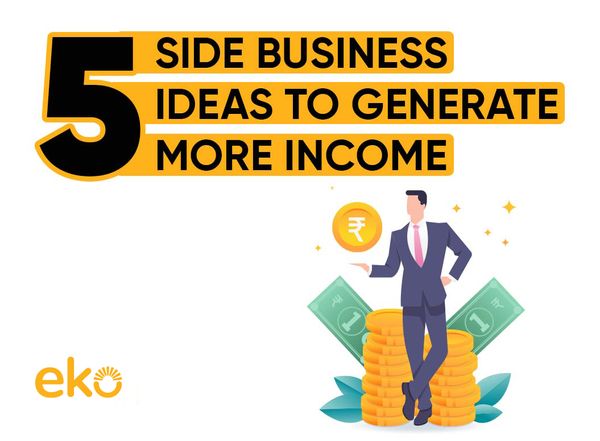 People are always looking for ways to earn more money. In a world where making money is so difficult, it's nice to have some extra cash in your pocket from something that you yourself do rather than another institution. Here are five ideas for side business that can help you generate some extra income without all the grueling work and stress of full-time employment.
Promote your Skill on Instagram : Depending upon what your skillset is, you can create a page on Instagram to promote your passion and skill which in turn could generate money for you with respect to direct selling of your product or consultation.
People who love to create arts such as painting, drawing, and photography can turn those creativities into marketable product and sell online directly. If you are passionate about cooking, yoga, digital marketing, and such skills, you can start to show off these talents online and can get extra money when these gets recognised.
Pick up your love of cooking: Cooking can be a fun and creative way for anyone to spend some time in their free time. In addition, food is usually something of value that people buy every day no matter what the cost. If you have always had a love for cooking and would like to try your hand at selling your food items, consider buying a food truck and opening up your own small business. You can start off slow with just one food item that you sell every day and slowly build up more products as you get larger and gain more regulars.

Use Eko Connect for selling financial services:  With the help of an Eko Connect App, one can start making money by doing money transfer and mobile recharge for anyone who needs to perform this activity. On every transaction made, you will earn a certain percentage of the transfer amount. You don't need any prior experience or expertise to earn through this, you just have to download the app and find customers around you who want to deposit money, withdraw money, transfer money or need quick mobile recharge for them.

Become an affiliate marketer: Affiliate marketers make money by getting people to purchase products or services using their referral link. There are many different ways to become an affiliate marketer, including writing articles about certain products, driving traffic to your own website using email marketing software and then converting them on your site. You'll be able to make a decent profit on every sale you make through your website, social media or any other way.

Become a freelancer: Freelancing is another great way to earn some side cash. You have time to work on your own time, so you can choose your own hours. This is a great idea for moms who are looking for ways to earn and stay home with their kids at the same time. There are many different types of freelancing out there too; you can freelance as an accountant, bookkeeper, graphic designer, or marketer.

Final words
There are so many ways to make money on the side that don't include sacrificing your full-time job security or creating a lot of stress in your life. Take some time at night, or while the kids nap during the day, and search for something that interests you till you are confident enough that the side business can be converted into a full-fledged operation.
---
All Posts